Markets have been on a wild ride thus far in 2022.  Cratered into correction territory, and then bouncing right back.1
And so it continues bucking and kicking into the second month of the year.
Weird, right?
Not really. These things happen pretty regularly when investors get jittery.
Let's talk about what's going on.
(Scroll to the end if you just want my soothing takeaways.)
What led to the giant selloff?
"I always avoid prophesying beforehand because it is much better to prophesy after the event has already taken place. " --Winston Churchill
A few things:
Fears around the Federal Reserve raising interest rates and what rapidly removing support could do to markets and the economy.2
Inflation worries (it's at a 40-year high).3
Tech earnings.4
A potential hot war in Ukraine.5
Bottom line: markets are being driven by fear, anxiety, and uncertainty.
Could we see a bear market or serious corrections in the weeks ahead?
Very possibly.
Corrections happen regularly and it wouldn't be surprising to see continued volatility or major drops.
Here's a chart that shows intra-year dips in the S&P 500 alongside annual performance to illustrate how often markets take a dive. 
(Take a look at the red circles to see the market drops each year.)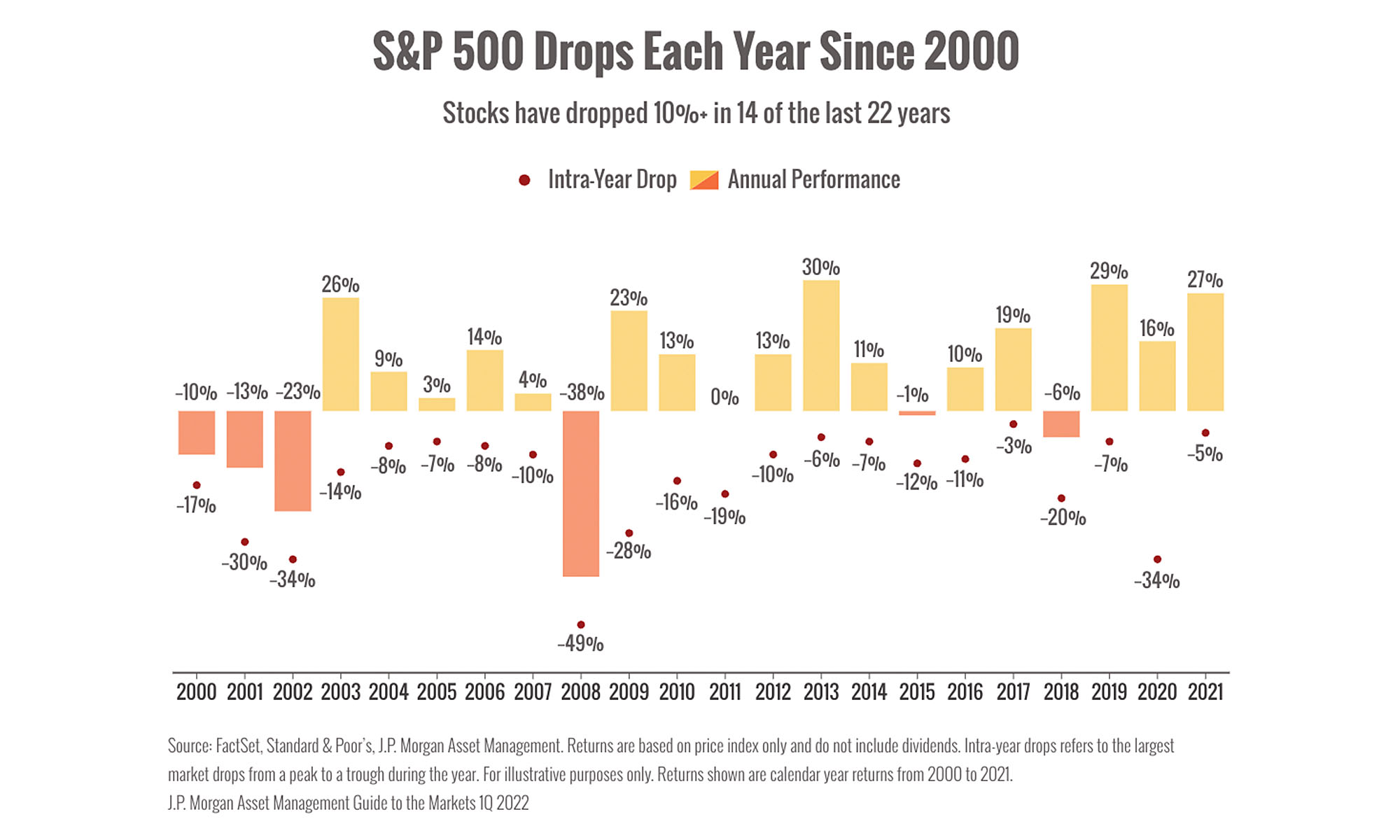 The big takeaway? In 14 of the last 22 years, markets have dropped at least 10%.6
We're dealing with a lot of uncertainty and investors are feeling understandably cautious.
However, that doesn't mean that we should panic and rush for the exits.  If you do feel jittery, call me before acting.  
"Individuals who cannot master their emotions are ill-suited to profit from the investment process." Benjamin Graham
We have no idea how long this wild ride will last.
And there are plenty of bright spots on the horizon, in terms of employment, earnings, economic growth, and COVID.1
Remember that investing is a long term game that requires discipline and stamina. 
Be in touch if you have questions or need to make some changes.


Be well,
Daniel Ruben, MD, MPH, MBA
(818) 483-6611
Schedule a Call/Zoom
---
The market indexes discussed are unmanaged and generally considered representative of their respective markets. Individuals cannot directly invest in unmanaged indexes. Past performance does not guarantee future results. The return and principal value of investments will fluctuate as market conditions change. When sold, investments may be worth more or less than their original cost.
P.S. How about some fascinating news as a distraction from markets? The James Webb Space Telescope has arrived in L2 orbit! You can check out real-time updates here if you'd like to geek out.
1 https://www.cnbc.com/2022/01/23/stock-market-futures-open-to-close-news.html
2 https://www.cbsnews.com/news/stock-market-down-federal-reserve-inflation-earnings-2022-01-25/
3 https://apnews.com/article/consumer-prices-inflation-c1bfd93ed1719cf0135420f4fd0270f9
4 https://fortune.com/2022/01/24/apple-microsoft-tesla-earnings-reports-tech-stocks/
5 https://www.reuters.com/markets/europe/how-russian-ukraine-conflict-might-hit-global-markets-2022-01-21/
6 https://am.jpmorgan.com/content/dam/jpm-am-aem/global/en/insights/market-insights/guide-to-the-markets/mi-guide-to-the-markets-us.pdf